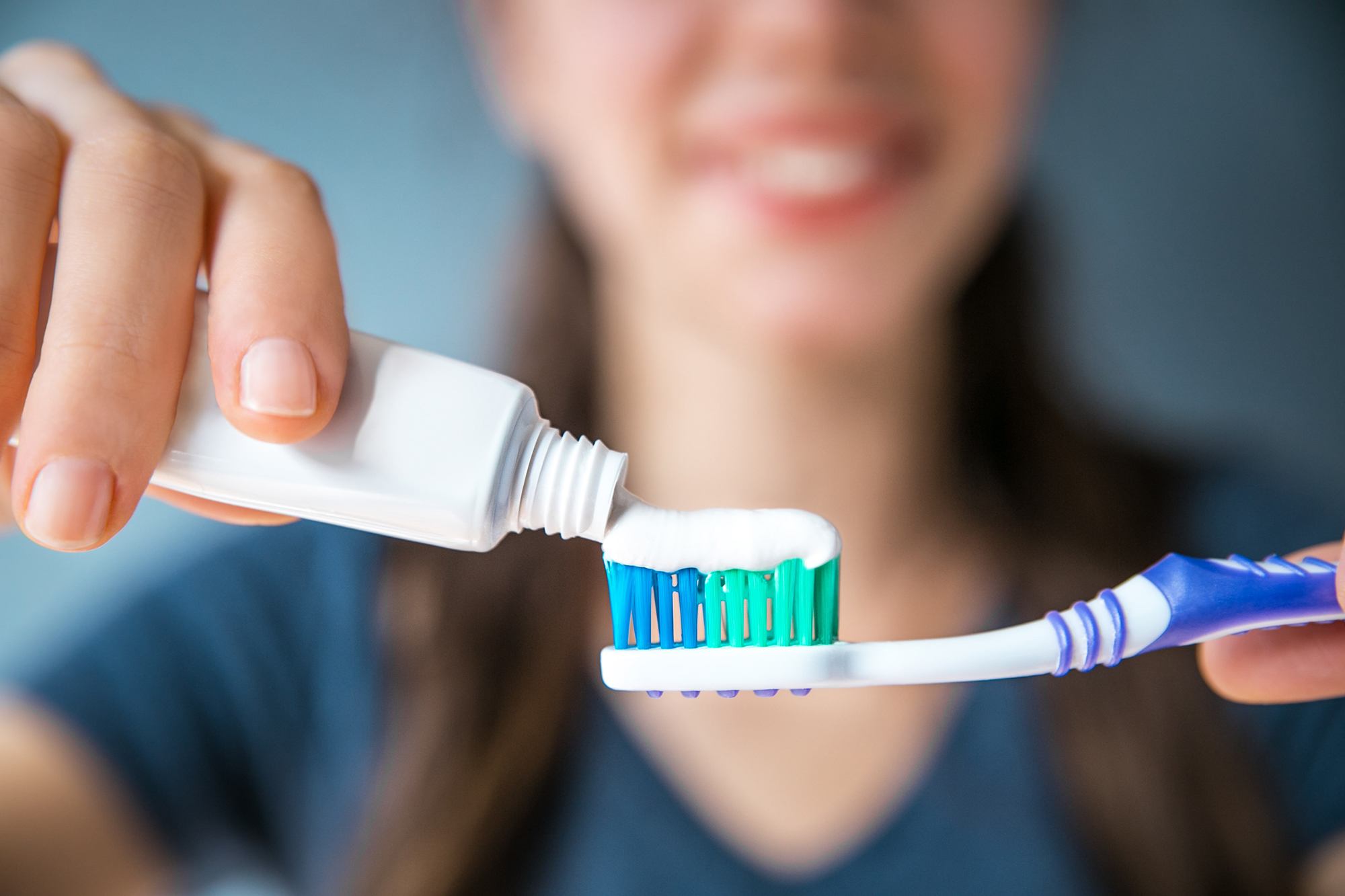 When you're stocking up on toothpaste, the sheer variety of products available can be confusing. Are some toothpastes better than others, and how do you know which one's right for you and your family?
Many people choose a toothpaste based on their preferences for flavour and consistency, but some types may be beneficial for certain people, such as toothpastes for sensitive teeth. If you're tempted by a whitening toothpaste however, it's recommended to have a consultation with your dentist first.[1]
Whichever type of toothpaste you prefer, you should check that it contains fluoride and has the Australian Dental Association (ADA) Seal of Approval. You should also take extra care when buying toothpaste for children.[2]
Why is fluoride important?
Most toothpaste contains fluoride, a naturally-occurring mineral that helps to strengthen teeth against plaque. Plaque is a thin layer of bacteria that can build up on the teeth and is responsible for tooth decay and gum disease if it's allowed to spread.[3]
Thorough brushing helps to remove plaque, and the presence of fluoride can make teeth more resistant to further plaque build-up. Fluoride can also help to reverse tooth decay and gingivitis in their early stages.[3]
Most dentists recommend brushing your teeth twice a day to provide the enamel with the right amount of fluoride. If you don't have fluoride in your local tap water, some dentists recommend brushing three times a day to get the full benefits of fluoride. You should speak to your dentist for advice if you're not sure how much fluoride you need or is safe.[3]
What is the ADA Seal of Approval?
The Australian Dental Association (ADA) is the peak national body for Australia's dental industry, which is committed to maintaining a high standard of oral health in the public. One way it's achieving this is through the introduction of the ADA Seal of Approval for approved dental products.[4]
Toothpastes and other dental products that bear the seal have been tested by a team of dental experts. The seal certifies that the products work exactly as the packaging claims and meet all the relevant Australian Standards.[4]
All products are re-tested at three-year intervals to give consumers confidence that they're buying a quality product, regardless of brand.[4]
What's the best toothpaste for kids?
Parents need to take care that their children are using the appropriate toothpaste for their age and development. Adult toothpaste is not suitable for very young children, as there is a risk that the level of fluoride it contains could lead to fluorosis. This is a cosmetic condition that results in white flecks appearing on the teeth.[3]
Australian guidelines for children and fluoride are:[3]
First 18 months – baby and toddler teeth should be cleaned using water only
18 months to 5 years – use a pea-sized amount of low fluoride children's toothpaste
6 years and older – children can now use standard toothpaste
If children don't have access to fluoridated water, dentists may sometimes advise using a larger amount of toothpaste or switching to full fluoride toothpaste slightly earlier. This should be discussed with your dentist.[2]
Read more tips for looking after children's oral health.
Talk to a dentist in Geraldton
If you need to see a dentist or you just want some oral health advice, call our friendly team at Chapman Road Dental Clinic to schedule an appointment.
Call us on 08 9964 3577 or contact us online. Ask your health insurance provider about rebate information and what you're entitled to claim for treatments.
References
[1] Australian Dental Association. Whitening, Crowns and Veneers [Online] 2017 [Accessed December 2018] Available from: https://www.ada.org.au/Your-Dental-Health/Younger-Adults-18-30/Teeth-Whitening,-Crowns-and-Veneers
[2] Better Health Channel. Toothbrushing – children [Online] 2018 [Accessed December 2018] Available from: https://www.betterhealth.vic.gov.au/health/ConditionsAndTreatments/toothbrushing-children
[3] Government of Western Australia Department of Health. Fluoride and protecting your teeth from tooth decay [Online] 2014 [Accessed December 2018] Available from: https://healthywa.wa.gov.au/Articles/F_I/Fluoride-and-protecting-your-teeth-from-tooth-decay
[4] Australian Dental Association. Seal of Approval [Online] 2017 [Accessed December 2018] Available from: https://www.ada.org.au/Your-Dental-Health/Seal-of-Approval