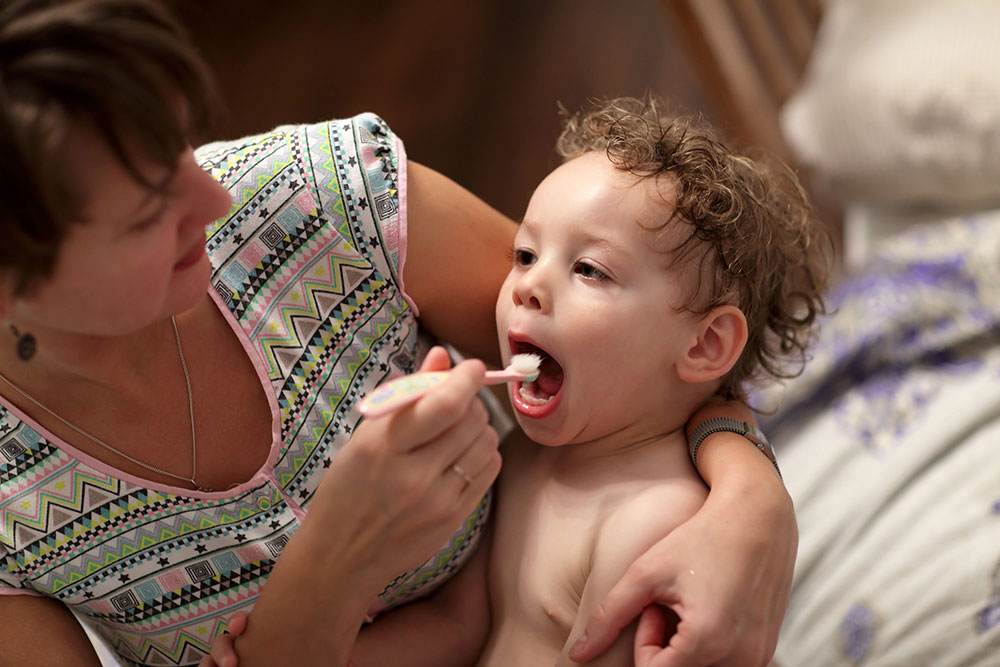 Kids' teeth need just as much care as adult teeth. Good oral care for children means daily brushing and flossing, a teeth-friendly diet and regular visits to their dentist, so any possible problems may be spotted and treated early.
When you can teach your child good oral care habits from a young age, there's a good chance they'll maintain that healthy smile for life!
Why is oral care important?
We all know that milk teeth are going to fall out eventually, however they still need just as much attention as adult teeth. Children's teeth are important for helping them to chew and develop speech, and losing teeth prematurely to decay or an accident can affect how their permanent teeth come through.
Because children's teeth are smaller and the enamel layer is thinner compared to adult teeth, they can be more easily damaged by dental plaque and decay. Combined with many kids' preference for sugary snacks and soft drinks, tooth decay among children is a big problem in Australia. According to the latest figures from AIHW, 42 percent of kids aged 5 to 10 have experienced decay in their baby teeth, while as many as 1 in 4 may have untreated tooth decay. [1]
The good news is that tooth decay can be prevented and reversed if it's caught early. That's why establishing a good oral hygiene routine is so important.
How do I brush my child's teeth?
Children's teeth need to be brushed as soon as they start to appear in their mouth. Even before then, you should gently wipe their gums at least once a day to help keep them free from bacteria.
Your child will need your help to brush until they're old enough to use a toothbrush properly, usually around the time they can tie their own shoelaces. Even after that, you should monitor that they're brushing their teeth correctly and for the recommended length of time – 2 minutes, at least twice a day.
Special toothbrushes are designed for infants, toddlers and young children. These have softer bristles and wider handles that are easier to grip and to move. You should also use children's toothpaste, which should not contain fluoride if they're younger than 18 months and low fluoride up to the age of 8. Kid's toothpaste is available in a range of flavours to make it more appealing.
When your child is old enough to start brushing by themselves, their dentist may recommend an electric toothbrush if they find this easier or more comfortable to use than a manual toothbrush.
Do kids need to floss?
Yes! Flossing is an important part of oral care that should be done at least once a day from the age of around 2 years. Like tooth brushing, children will probably find it difficult to floss by themselves until their coordination improves, usually by the age of 7 or 8.
Flossing helps to remove food and bacteria that can get caught between the teeth or in other hard-to-reach places that can't be removed using a toothbrush alone. Daily flossing helps to reduce plaque build-up and lowers the risk of tooth decay and gum disease developing.
What food and drink are safe for kids' teeth?
It's not news that sugary snacks and drinks are bad for your teeth. What may be surprising is how many of these drinks kids consume in a typical week. A Roy Morgan survey of children aged 6 to 13 found that more than half consumed fizzy soft drinks and almost two-thirds drank fruit juice, which is also acidic and can still erode teeth enamel even if it doesn't contain any sugar. [2]
Instead of acidic and sugary drinks, kids should be encouraged to drink fluoridated tap water, which contains a safe level of fluoride to help strengthen and protect their teeth. Milk is another teeth-friendly drink that can help support and remineralise teeth.
When it comes to snacks and packing a lunchbox, fresh fruit, crunchy vegetables, nuts, cheese and other sugar-free dairy products all get the dentist's stamp of approval, not to mention helping their bodies get the vitamins and nutrients they need for a healthy, active lifestyle.
When should my child visit the dentist?
The other pillar of good oral care is to keep up with your scheduled dental check-ups. Your child should have their first dental appointment after their first teeth appear, before the age of 2.
When you visit a family-friendly dentist, they'll help your child to feel safe, happy and relaxed during their check-up. This can help them to develop positive associations with dentistry that could be carried all through their life, which may make them less likely to skip appointments in the future or to suffer dental anxiety.
We typically recommend six-monthly check-ups, but your child's circumstances may mean your child should visit more or less frequently. Be sure to speak to a qualified professional about how often your child should get a check-up. This gives your dentist the chance to assess your child's teeth and gums and to recommend any treatments that may be needed to maintain good oral health. They can also address issues such as crooked teeth or teeth grinding at an early stage, which may be prevented from becoming more serious in the future. Your dentist can advise the best treatment plan for your child.
Talk to a family dentist in Geraldton
If you or your children need to see a dentist, call our team at Chapman Road Dental Clinic on 08 9964 3577.
Ask your health insurance provider about rebate information and what you're entitled to claim for treatments.
References
[1] Australian Institute of Health and Welfare (AIHW). Dental & oral health Overview [Online] 2017 [Accessed March 2018] Available from: https://www.aihw.gov.au/reports-statistics/health-conditions-disability-deaths/dental-oral-health/overview
[2] Roy Morgan. Roy Morgan Young Australians Survey, July 2015-June 2016 [Online] 2017 [Accessed March 2018] Available from: http://www.roymorgan.com/findings/7101-sweet-drinks-much-more-popular-with-kids-than-older-aussies-201701031624
[3] Bupa. Looking after children's teeth [Online] 2014 [Accessed March 2018] Available from: https://www.bupa.com.au/health-and-wellness/health-information/az-health-information/looking-after-childrens-teeth